"The Other Wonder of Cusco"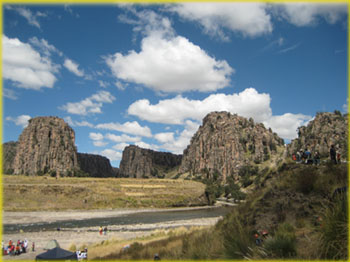 I would like to introduce you " The other New Wonder of Cusco ", an Ancient, Mystical and Magical Andean region on the Espinar province located 242 Km south/west from Cusco (in the way to Puno) at 3,938.- m. above sea level. Espinar and its great richness of culture, tradition, biodiversity of the plateau (Altiplano), high mountains, rivers, Inca and Pre-Inca archaeological sites (k'ana culture), beautiful natural scenery, etc. can be your new destination. Espinar is offering now a wonderful alternative for tourists in search of adventure (hiking, climbing, rafting, biking, horse riding, etc.), culture, history, shamanism, mysticism, spiritualism, Andean esoteric practices, powerful energy vortexes, etc. The Incas developed an advanced awareness of energy and the knowledge of how to utilize each vibration for growth and transformation. Each temple was built at a specific point of powerful energy vortex, many of this temples today still remain in Cusco and its surroundings, so the archaeological sites that belonged to the K'ANA CULTURE are not an exception, they also had knowledge and understunding about energy, you will feel a great and powerful energy in almost every ancient site and all around THE THREE CANYONS – SUYKUTAMBO. The K'ana culture as the Inca or Qhechua cultures that lived in Peru thousands of years ago have passed on a rich heritage( legacy) of rituals, ceremonies, healing practices and other esoteric information that is just as valuable to our spiritual growth on our days as it was during their time.
Sites you can visit:
K'ANAMARKA:
Pre- Inca site that belonged to the K'ana culture, the most important ethnic group of the Andean high lands, it was the political, religious and administration capital of the K'ana Nation. It is conformed for 125 precincts of which 76 are circular, 46 rectangular and square constructions, built with volcanic stones and mortar. The most important constructions are the funerary chambers that are very different of what you've seen in Inca culture, water channels, etc.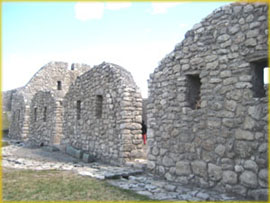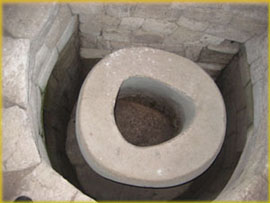 MAUK'ALLAQTA:
Another important K'ana site located on the Apurimac River banks, has big circular, semi-circular and rectangular constructions, many of the structures and walls have influence of other cultures as Q'ollao, Inca and colonial (Spanish), it also presents an Inca highway or trail (Q'hapac Ńan or Great Highway) that goes through the center of the archaeological site, funerary buildings (Chullpas) as the ones in Sillustani – Puno, and a colonial chapel that was probably the first one on the K'ana nation plateau.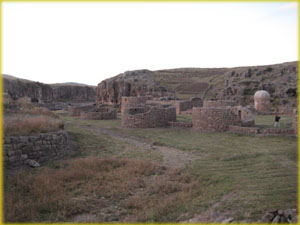 CHULLPAS
FUNERARY BUILDINGS OR CHAMBERS WHERE ONLY NOBELS OR PEOPLE OF VERY HIGH HIERARCHY WERE BURIED.
PARIS PUKARA:
Located 18 Km from Yauri Capital of Espinar, it is divided in two sections; Uray Pukara and Ninay Pukara, this archaeological site has circular buildings of 3 and 4 M. height and combined with rectangular buildings and associated to funerary chambers (Chullpas), it shows many plazas or squares probably dedicated to daily cult.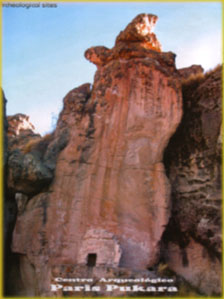 NATURAL SCENERY: SUYKUTAMBO – THREE CANYONS (at 4,011.- m.a.s.l.)
GARGANTA DEL DIABLO - DEVIL'S THROAT, beautiful natural scenery, lithic formations of volcanic origin, sculpted through thousands of years, hills and vertical cliffs over 130 m. Three rivers merge; Callumani, Apurimac and Cerritambo and form the amazing APURIMAC RIVER (APU-RIMAC) or The God that Speaks.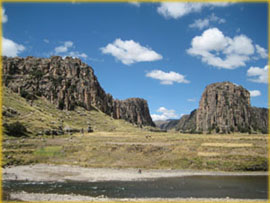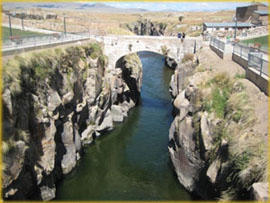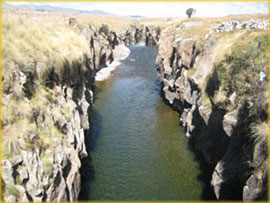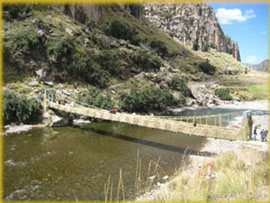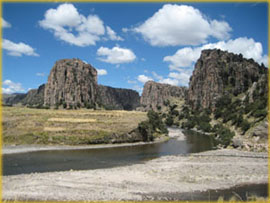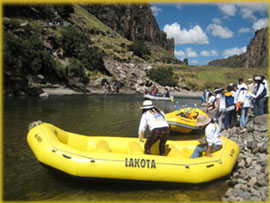 Registration, Payment And Cancellation Policy:
To reserve your space and the dates for the journey a US $ 250.00 deposit per person has to be paid immediately, 50% deposit of tour balance has to be paid 90 days prior the trip starts and 45 days the trip starts has to be paid in full. Every person has to fill out and sign the registration form of Peruvian Magic Journeys and send or bring it with them before the tour starts.
Deposit has to be made directly to a bank account or send it through Western Union to Cusco – Peru to Romulo Castilla. The final payment due must be respected; otherwise a fee will apply. We recommend you obtain travel insurance to protect you against all the unpredictable events that might stop you from taking the trip. 
TOUR PRICE INCLUDES: Hotel Accommodations 3 star hotels, breakfast, lunch, dinner, all entrance fees to archaeological sites and others, tour guide, all ground transportation as listed in itinerary once you arrive in Cusco arranged by PERUVIAN MAGIC JOURNEYS.
NOT INCLUDED: Tips to porters, maids, bellmen, bus drivers, tour leader, guide, airport taxes, and other things not described in the itinerary, airfare to/from Lima/Peru is not included and it is responsibility of the traveler make the reservation and obtain it.
CANCELLATION POLICY: 45 days prior 50 % and less than 30 days will be charged 80 % of total fare; NO REFUND WILL BE GIVEN ONCE THE TOUR BEGINS.
WAIVER: I/we agree to take responsibility for all inconveniences and challenges that can happen while traveling in a third world country. I/we release Romulo Castilla and Peruvian Magic Journeys, from all responsibility and liability for unforeseen circumstances and /or changes in the schedule, weather, earthquakes, etc, acts of terrorism, and any other unforeseen events, mental/physical illnesses occurring during tour dates. 
I/we are aware of and agree to the REGISTRATION, PAYMENT AND CANCELLATION POLICIES and understand and agree to all above information.
Romulo Castilla